Traptow Photography - www.traptow.com

The Traptow Photography web site is a marketing tool used by the owners, Rod and June Traptow, to spread the word about their services while showing off their excellence through their past work.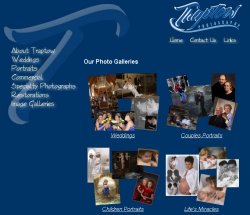 The goal of this site is to provide an online portfolio of their work which is both pleasing to the visitor's eye and easy to navigate.
To accomplish this, we placed a large selection of their photographs on the site in a collection of Image Galleries. The visitor can view the photographs by category (weddings, portraits, commercial and specialty) or they can sit back and view the online slideshows.
The site also contains extensive information for potential clients, including tips on planning for your wedding photography or your family portraits.
The opening page includes a brief animation to draw the visitor's attention while introducing the services offered by Traptow. An extended presentation is also available which offers additional examples of Traptow's professionalism and expertise.
We've also added a Specials section so that the Traptow's can make their own updates to the special discounts offered to their clients.
The Traptow web site can be found at www.traptow.com.