Jeffrey Dawson - www.jeffreyd.com (no longer active)

Note: Jeffrey Dawson decided not to seek re-election after his term ended in 2004 so his web site is no longer active.

Jeffrey Dawson is a City Councillor in Red Deer, Alberta. When he first contacted AFAB, he had a web site but was looking for a make-over of his site design and he wanted to add greater interactivity with his visitors.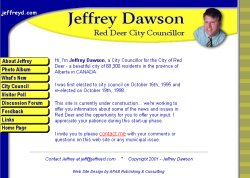 The main purpose of the site is to communicate with the citizens of Red Deer about the issues concerning the city, however, with the municipal elections being held in October 2001, he also wanted a powerful yet flexible forum on which to present his ideas and receive feedback from the public.
With input and assistance from Jeffrey at every step, we created a colourful and eye-catching design. We also developed and implemented a number of features on his site to allow Jeffrey to communicate with his visitors, including an online poll to allow visitors to vote on city issues and a discussion forum where questions and concerns may be addressed.
In addition to complete biographical information about Jeffrey, we included an online Photo Album which allows him to post the photographs and descriptions of events he attends - both personal and council-related.
A strong component of Jeffrey's campaign platform was to remain in touch with the citizens of Red Deer so we set up a What's New section where Jeffrey can quickly and easily post news items and issues to keep his visitors up to date with everything that's happening in and around the city.
An online calendar was also implemented to present upcoming events, including City Council meetings and planning sessions. We then added an email newsletter system so that visitors can register to receive regular updates about changes to the site as well as announcements of council activities.
Jeffrey is also the owner/operator of a direct mail advertising service. His web site takes advantage of the promotional opportunities of the Internet to promote these services and we've implemented an online advertising system where he can manage the advertising throughout his site.
The entire site has been developed to allow Jeffrey to make updates to the information quickly and easily without any knowledge of HTML. All updates are made through web-based forms so that Jeffrey can maintain his site without having to contact AFAB each time he wishes to make additions or minor changes.