Pete's Class - www.petesclass.com

Pete's Class was originally planned to be a tool to help sell the core-stability fitness videos produced by Pete Estabrooks, but has now grown to offer a full online library of exercises, routines, articles and videos in a password-protected member area.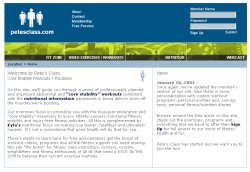 This web site allows visitors to view and download sample exercises to be done at home while encouraging them to sign up as a member or to purchase videos from the Pete's Class Fitness Video Series.
All updates to the online libraries can be performed by Pete through any web browser which allows him to keep the site current and all the information fresh.
All members are greeted with personalized messages, workouts and fitness diaries when they sign in so their experience on the site is unique to them. User interactivity is also encouraged through an "Ask Pete" section where questions and concerns about personal fitness may be sent to Pete and his responses are posted to the site.
Membership fees and video sales are handled through mail-order or a third-party transaction processing company to reduce the costs of the site and to give Pete the opportunity to focus on producing content for the site rather than handling the behind-the-scenes payment processes.
Pete's Class can be found at www.petesclass.com.